First-Class Roofing in Woodburn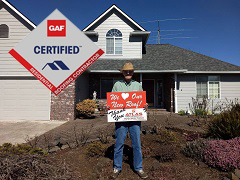 A strong roof is an essential ingredient for a home to protect it from the elements. A roof should always be taken care of so that it can in return take care of those residing inside of the home. Oregon is a beautiful place to live, but the weather here is hard on a roof. Roof damage is sometimes hard to see from the ground level so it goes undetected and compounds over time. Now you are probably thinking, does my roof need to be repaired or replaced? If you have noticed that it is not looking as good as it used to, then it is time to call your local
Woodburn roofing service
for a check-up.
Some of the most common signs that you need to call a professional roofer are:
Leaks
Algae
Streaks
Dark Spots
Rotting
Roof Sag
Missing and Damaged Shingles
Storm Damage
A new roof can reduce the risk of widespread damage throughout your home!
If you recognize any of these well-known roof problems and your roof is older, it is time to weigh your options. You might be able to satisfy them with high-quality Woodburn roof repair services, but if the roof will demand additional work in the near future then you will want to consider a full roof replacement. Installing a brand new roof is obviously more expensive than repairing one but at the same time, it may make more sense to spend more upfront to save money in the long run with an older roof that will need frequent repairs.
Local Woodburn Roofing Contractors
Before determining whether you should repair or rebuild your roof, a thorough examination must be carefully assigned to look for damage and to what degree it is in proportion to the whole roof. If you elect to get go up there for a closer look yourself, be sure to use proper safety equipment and walk carefully to prevent further damages. We advise using binoculars and standing on a ladder from a distance to get the best representation without ascending on the roof.
Choosing new shingles and materials can be difficult. But when you choose
Skyline Roofing
to install your new roof, we will help you through the entire project using the highest-quality products available. After you determine what type of professional-grade shingles you desire, our
GAF Factory-Certified
Woodburn roofers
will install them quickly and accurately. Your home will be equipped with a new roof that is assembled to last for decades (with routine inspections and maintenance when required) and protect your home from the elements all while increasing its curb appeal and charm.
Avoid costly renovations and fix small problems before they compound!
Hail and wind destruction can be disastrous to a home. The roofing, siding, windows, and gutters can get beat up or even pulled right off of it. If your home has been harmed by a storm and you want to file an insurance claim, we can assist you with your claim to get the repairs you desperately need! Storm damage is not always seen by homeowners from the ground, so when your home goes through a heavy storm you should always get a professional inspection ASAP to confirm that your home was not affected. Your roof may not be allowing water inside at this very moment, but that does not mean it will not soon without maintenance and repair.
Call Atlas Roofing Pros in Woodburn Today for a Free Inspection & Estimate at (503) 393-7663

See More of Our Services: